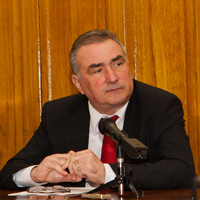 With more than 60 years of experience in higher education, DJUG has trained 60,000 graduates in the fields of engineering, human and economic sciences.

We hope and strongly believe in success and building a modern university, combining the highest possible educational and research standards with the needs of the local community and of the students. We also believe in a direct bond between education and research, but also in the association of academic inquisitiveness and applied sciences.

Internationalisation is a central aspect of contemporary society, given that Europe, via the European Union, plays an important role in international relations.

"Dunarea de Jos" University of Galati offers a large variety of courses and study programmes. I am convinced that choosing our university will help you develop a professional career and find a suitable job, and, more importantly, that it will help you become the best version of yourself.

Join "Dunarea de Jos" University of Galati and be sure that you will learn from the best!

Professor Iulian Gabriel BÎRSAN
RECTOR